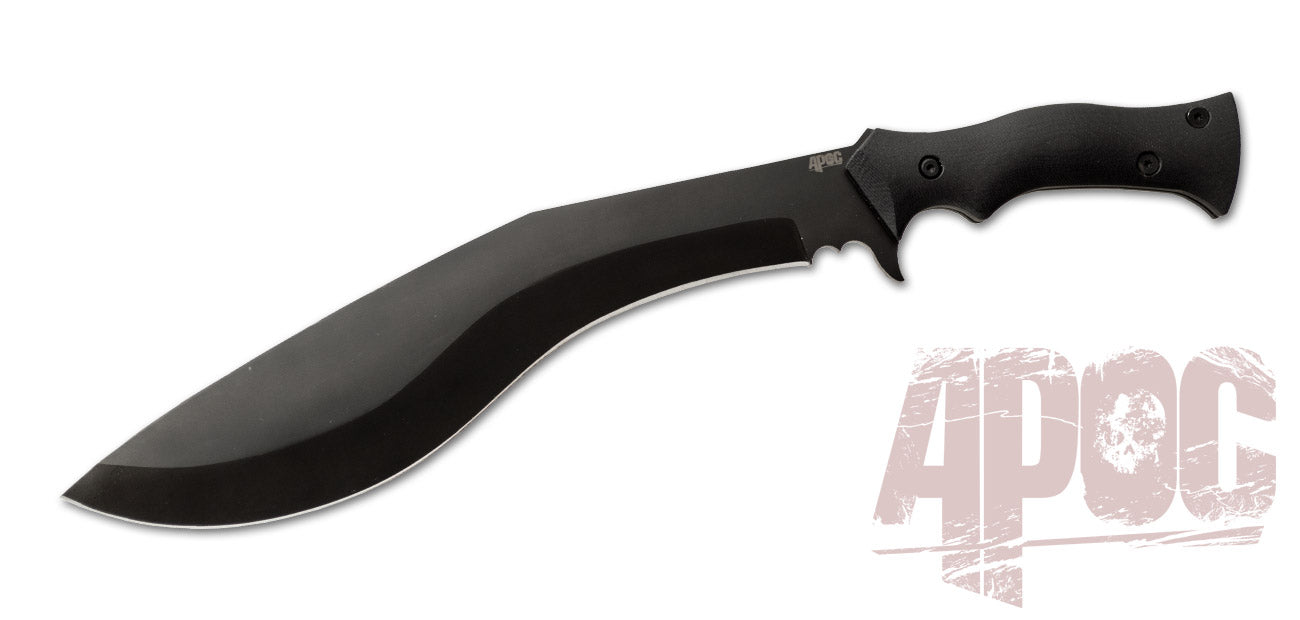 APOC Kukri Machete KD35540
It is written that the meek shall inherit the earth. On the day after Armageddon, you wonder if death would have been a better inheritance. Pestilence and hunger stalks you daily in your quest for survival. Knowing when to or not to draw blood is an acquired skill. But when it's time you look no further than your hip to your APOC Kukri.
The 10 1/4" iconic recurved blade of the APOC Kukri tells you and your intended target everything you need to know about its capabilities. It's 16 1/4" overall length belies its 1 lbs. and 7 oz weight allowing for quick and devastating cuts. The versatility in the 5 3/8" full tang grip provides for a tight handle for vicious blows. The black Kydex sheath is Molle compatible giving you the choice of concealment or making a statement of deterrent on your person.  
Key Features:
10 1/4" black coated 9260 blade
Milled G10 Handle
Molle compatible sheath
APOC Kukri


Specifications
Overall: 16 1/4"
Blade Length: 10 1/4"
Handle Length: 5 3/8"
Weight: 1 lbs 7oz
Thickness at Guard: 5.5mm
Blade Steel: 9260
Hrc Edge: 56
Handle Material: G10

Specs will vary slightly
from piece to piece.