APOC Double Mukk Hatchet Duo-Grind Blade (2.75" Black) XD35560
New from APOC Survival Tools is the 
Double
Mukk
 - a small go-anywhere hatchet that is a modern reimagining of the small axe in Nessmuk's famed trio of wilderness tools, with a little Viking DNA thrown in for the grins. This full tang hatchet is only 12" in length but the thick 9260 spring steel head packs a punch for limbing and shelter prep. Perfectly concealable in a bug-out bag or under the seat of your truck with the belt, lashing and MOLLE compatible sheath. The Viking-style bearded head lets you choke up to easily make feather sticks, prep some kindling or whittle notches for traps.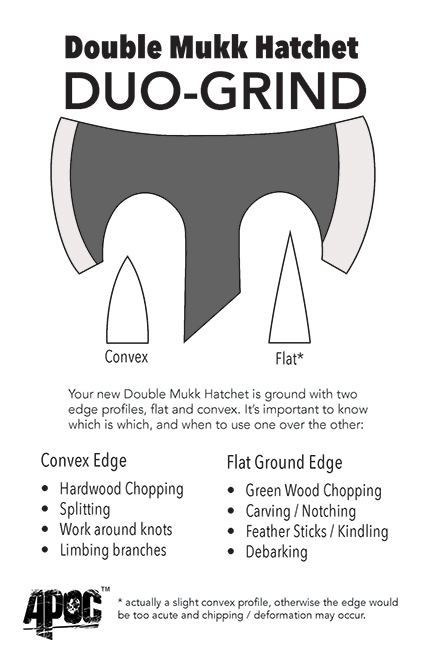 A unique feature of the 
Double
Mukk
 is the duo-grind - one head is flat ground for carving and fine work while the other has a heavy convex grind for limbing and splitting. The whole hatchet is milled from a single piece of 9260 spring steel that's tempered to the low 50's HRC. Handle scales are solid milled G10, contoured for comfort with a swell at the end to keep it in your hand. 
Key Features:
Duo-ground edges
9260 Spring Steel
Multi Carry Sheath
Overall: 11 3/4"
Blade Length: 2 3/4"
Handle Length: 8"
Weight: 1 lbs 8 oz
Thickness at Guard: 6mm
Thickness at Tip: 6mm
Blade Steel: 9260

Specs will vary slightly
from piece to piece.