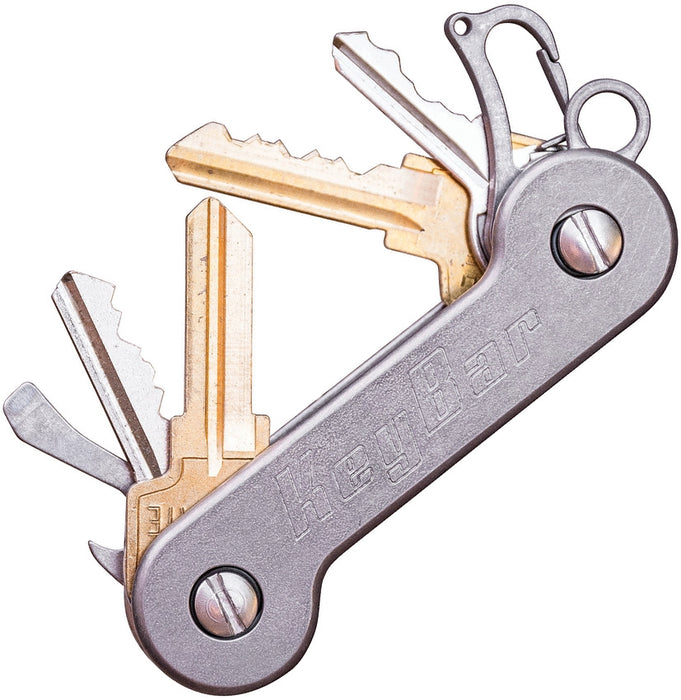 KeyBar Titanium Keychain KBR210
3.5" overall. Three sets of screws included (to hold 4, 8, or 12 keys). Load keys in preferred order. O-rings keep keys snug and allow for adjustment of tension. Washers between keys for easy deployment. Includes link for key fob. Titanium faceplates. Holds up to 12 keys. Keys and accessories not included. Hang packaged.
0.15lbs
USA
What's included?
(1) Branded hinged tin
(1) KeyBar with a titanium pocket clip

(2) 1/2″ screws (up to 4 keys)
(2) 3/4″ screws (up to 8 keys)
(2) 7/8″ screws (up to 12 keys)
(18) Washers
(2) O rings (allows you to adjust the tension)
(1) Titanium key fob link

Will my keys fit?

Use the following dimensions to find out:

Length of the KeyBar – 3.5″
Width of each rounded end – .95″
Distance between screw holes – 2.55″
Screw post diameter – .164″
How much does the KeyBar weigh?
Less than 2 ounces
Less than 4 house keys

What can I put in the KeyBar?

Up to 12 keys and inserts with included screws
Up to 28 keys and inserts with extension screws