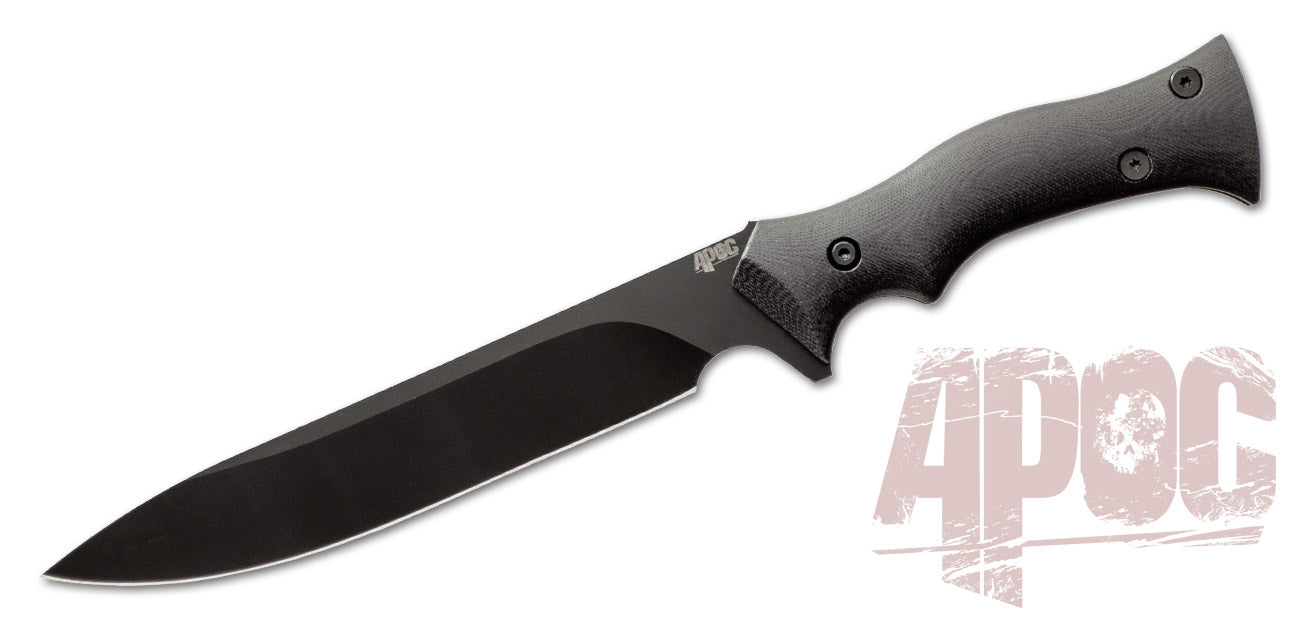 APOC Wayward Camper Knife KD35600
On the darker back side of Armageddon, there's a fine line between craftiness and folly. Under certain circumstances your cleverness must be as sharp as your will to survive. Last minute makeshift shelters and sneaky traps for interlopers can keep you from oblivion's edge. You need versatility in your tools as much as you need in it your tactics. Our 12 5/8" long, full tang Wayward Camper Knife slices the fine line between utility and tactical knife.
The 6 5/8" black coated blade features a finger notch that allows you to choke up on your grip for more intricate cuts and carving duties. The sloping handle with milled black G10 scales and 5mm blade thickness provides for a secure grip when thrusting, chopping or slicing motions. In those tactical moments that require stealth you can slip the knife from the Kydex sheath with a gentle snap of the button. Being Molle compatible you can place this knife wherever you find it to be most convenient to access.
Key Features:
6 5/8" black coated 9260 blade
Milled G10 Handle
Molle Compatible Sheath
APOC Wayward Camper Knife


Specifications
Overall: 12 5/8"
Blade Length: 6 5/8"
Handle Length: 5 1/4"
Weight: 14.5 oz
Thickness at Guard: 6mm
Blade Steel: 9260
Hrc Edge: 56
Handle Material: G10

Specs will vary slightly
from piece to piece.