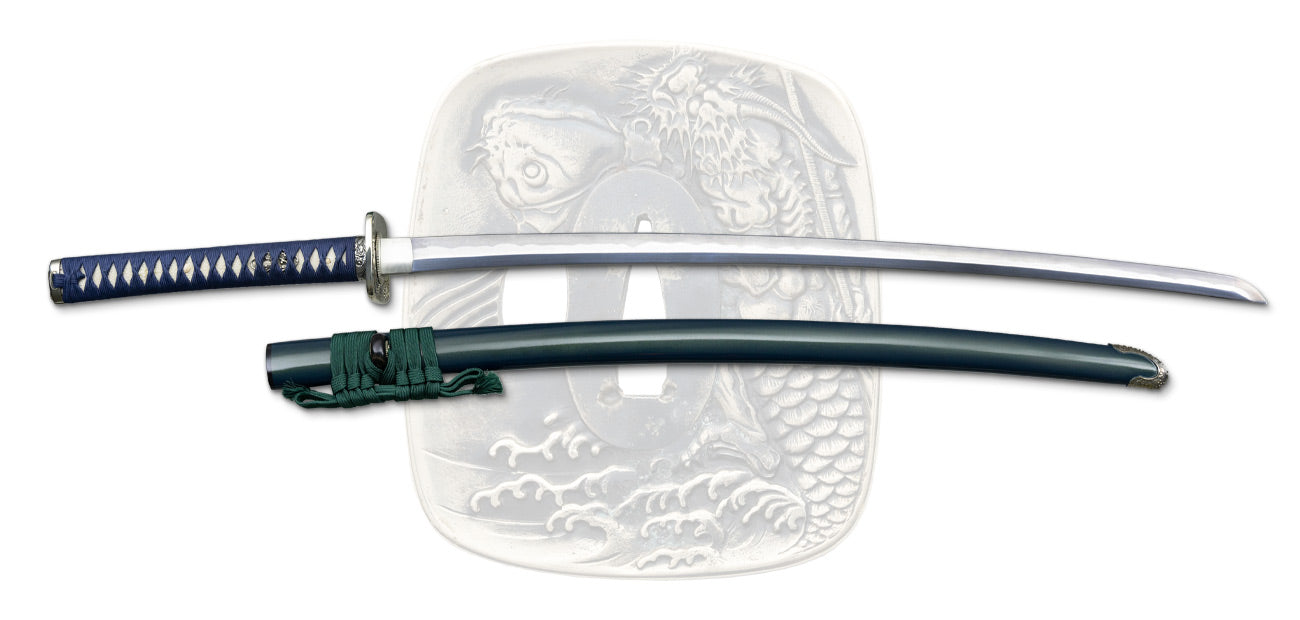 Casiberia Taikyu Limited Edition Katana Sword by Dragon King SD35481
The koi is a symbol in Asian culture of endurance.  The koi struggles to return up rivers through strong currents and many difficult obstacles.  After finally arriving at its final destination,  the koi transforms into a powerful dragon.  The artisans at Dragon King depicts this struggle in beautiful sword art that few forges can. 
The Taikyu Katana embodies all the elements of endurance in master piece katana.  The 27 ½" folded steel blade is a mixture of T10 and 9260 steels to give the hada clear appearance.  The blade is light and quick in the hand.  The 10 ½" tsuka is wrapped in teal Japanese silk over real same.  The deep blue lacquered saya matches perfectly when light passes over it revealing a teal sparked reflection that is almost impossible to photograph.  The furniture from the kashira to the kojiri features a turbulent wave them.  The Taikyu Katana will please the most discerning collector of high end folded steel katana or those who just love sword art. 
Key Features:
Folded Steel Blade
Teal Japanese Silk Wrapped Tsuka
Deep Blue Lacquered Saya
Overall: 39 1/2"
Blade Length: 27 1/2"
Handle Length: 10 1/2"
Weight: 2 lbs 4 oz
Thickness at Guard: 6.5 mm
Thickness at Tip: 4.5 mm
Sori: 3/4"
Blade Steel: T10 & 9260
Hrc Edge: 60
Hrc Back: 40

Specs will vary slightly
from piece to piece.