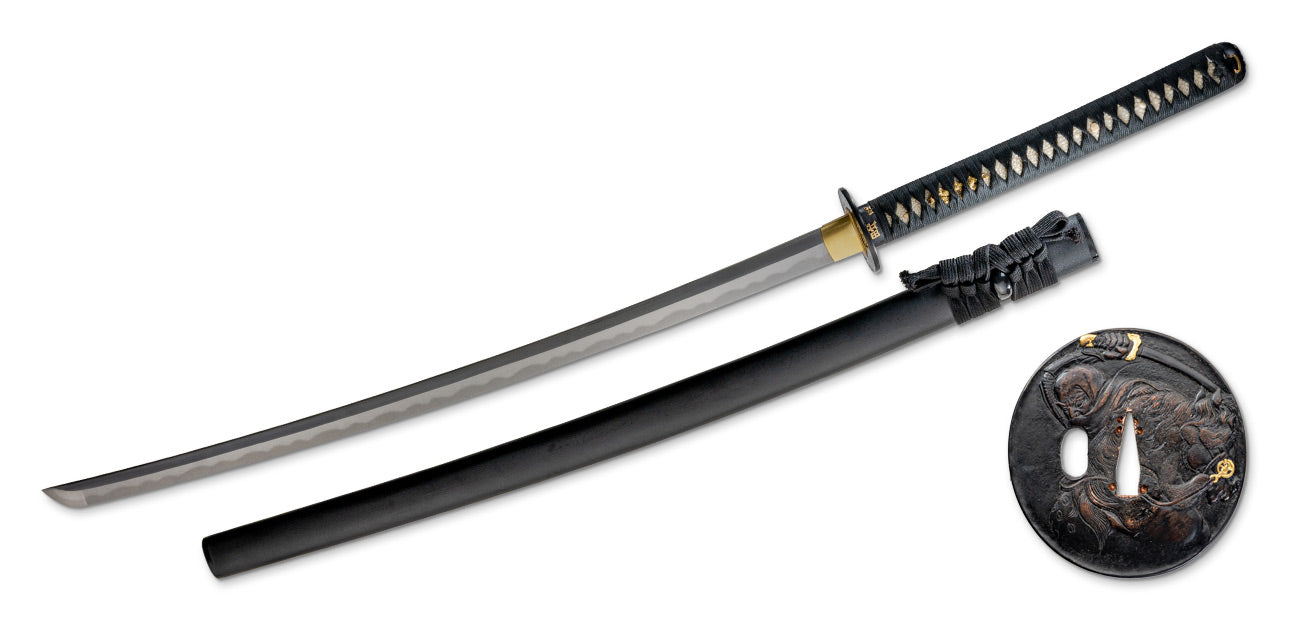 Hanwei Uesugi Katana by Paul Chen SH26020
Uesugi Kenshin was one of feudal Japans most unique and honorable daimyo of Senkugo period. Being born Nageo Kagetora, a third or fourth son, his early years were those of quiet and study until his sickly older brother's incompetence to rule caused family friends to encourage him to challenge his sibling's station. After wrestling control from his brother and several well-planned alliances, adoption as heir of the Uesugi klan, some changes in titles in land and several military victories, he rose in power and became known by many names, but specifically the "Dragon of Echigo." He became renowned for reforms in commerce and agriculture in securing his lands and raising the standard of life for his people.
As the legendary Takeda Shingen expanded his territory and power, he soon found his borders under siege and thus began their great rivalry. Mostly just indecisive skirmishes in the beginning, their fourth encounter which would be their largest, the Battle of Kawanakajima, Kenshin employed a new strategy of rotating soldiers on the front line with fresh troops nearly winning the battle. So pitched was this battle Kenshin rode up to Shingen and slashed at him by which Takeda deflected with his famed war fan. Yet depending on whose statistics you believe; many scholars consider this encounter a draw.
Such respect Uesugi had for Shingen, when Takeda broke with the Hojo clan who soon after boycotted the Kai Province of salt, Kenshin sent his rival salt from his own province with the message, "I do not fight with salt, but with the sword." Even at Takeda Shingen's death, Kenshin said "I have lost my good rival. We won't have a hero like that again!" But even after his rival's death, Kenshin found a new one in the rising power of Oda Nobunaga. 
Continuing our series, this beautiful katana features the embossed likeness of Uesugi Kenshin replicated from Japanese artwork. The 27 1/4" forged T10 steel blade cuts as well as it looks. The fuchi and kashira are blackened with gold detailing. The gold dragon menuki are over laid with a black cotton handle wrap over real ray skin. The matte black textured painted saya completes the piece with a subdued and humble finish. 
Key Features:
Clay-tempered forged steel blade
Traditional handle construction
Textured painted saya
Overall: 41 1/4"
Blade Length: 27 1/4"
Handle Length: 12 3/4"
Weight: 2 lbs 10 oz
Sori: 5/8"
Blade Steel: 65Mn
Hrc Edge: 60
Hrc Back: 40

Specs will vary slightly
from piece to piece.