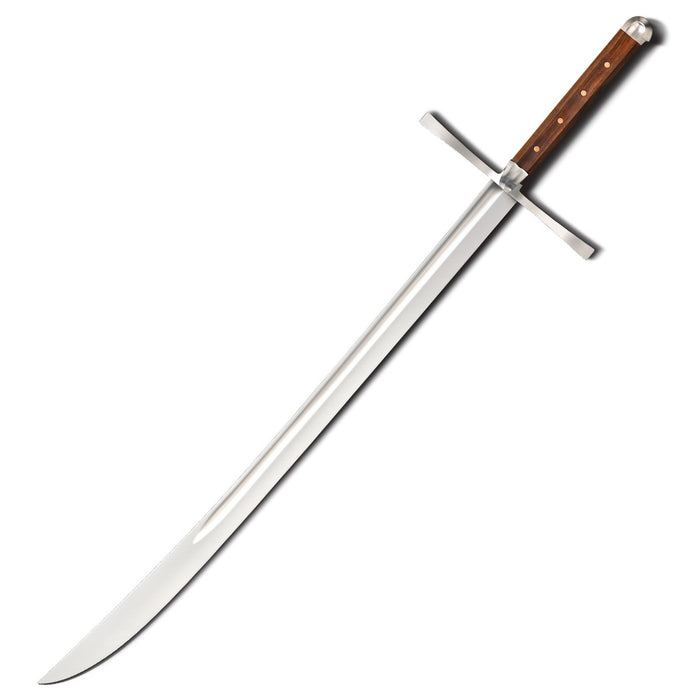 Cold Steel Kriegsmesser Sword w/ Rosewood Handle (44.5") CS-SW-KGM
 The Kriegsmesser, or "War Knife" is Cold Steel's® new variation on the popular Grosse Messer. It features a traditional Nagel or nail to protect the outside of the hand instead of the side ring on the Grosse Messer. The blade is made from high carbon steel with a hard spring temper and comes fully sharpened. The upswept point is ideal for cutting and slashing, and, due to its
distal taper and three-quarter length fuller, it is fast and nimble in the hand.

To protect the hand and forearms, our Kriegsmesser features a steel guard with long quillons. The handle is also quite traditional and consists of a full tang complete with a steel pommel and Rosewood grip scales retained by four copper pins. The handle is long enough for one or two-handed use, with a surprisingly secure grip because the of the slightly curved trough in the handle scales that the flesh of the fingers can bite into.

The Kriegsmesser is fast, agile, powerful, and quite a affordable if you're looking for a Grosse Messer with a whole new look, we have it!