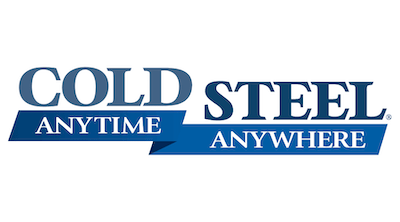 For more than 40 years, Cold Steel Knives have made the strongest knives for everyday carry, hunting, outdoors, and tactical needs. The diverse product line means that you'll be ready for anything – anytime, anywhere.
A History of Success
When Cold Steel was founded in 1980 by Mr. Lynn Thompson, he made it his mission to produce the strongest knives on the market and their signature strength is trusted today by military personnel and law enforcement all over the world.
But strength isn't all they offer. Cold Steel defined their style early on when they popularized the tantō-style sword in America in their first year of operation.
The Best People Using The Best Materials
When you need your knife to deliver strength over the competition, you need to start with the strongest materials. They feature a variety of steels to suit their many versatile blades, and one of the common being the 1055 High Carbon steel.
High carbon content means a hard metal, but typically it also means brittle. The balance of carbon and lean alloy in the 1055 avoids the brittleness that is common in most other high carbon materials.
Or consider their magnificent swords that are crafted with the beautiful and resilient Damascus steel. This outstanding steel is hard, yet flexible, and easily maintains a keen edge. As if that isn't enough, it also lends a uniquely beautiful finish.
Utility and Convenience
Among their diverse line, Cold Steel offers a selection of handy folding knives, easy to carry wherever you go. The Mini Recon 1 Tanto Lockback Knife takes up only 4 inches when folded so that you know your high-performance 3 inch stainless alloy steel blade is just one quick flick away.
You can get that same resilient utility in a stylish knife that evokes the aesthetic of a 1950's switchblade in the Kris Ti-Lite Liner Lock Knife. This little beauty folds up with a stainless-steel leaf spring lock that keeps the blade locked and ready for you. And the memorable new Kris-style blade also has an optional serrated edge.
The Way of the Sword
Cold Steel has made a name for themselves with their diverse line of swords. There are great everyday options, such as the polypropylene Medieval or Katana Bokken trainer swords. These are a great way to build your skills without accidentally removing your fingers… or your friend's fingers.
Of course, they also sell the real deal. Get your warrior hands on a Damascus Viking Sword that comes sharpened and ready for battle. Or maybe the far east is more your style, with the Katana Warrior Series Sword.
Get your Cold Steel Anytime, Anywhere in Canada
You can see these blades for yourself at any of Cutting Edge Cutlery's locations in Calgary, Saskatoon, Regina, and Winnipeg.
Or use Cutting Edge's simple online ordering system to get your knives on your doorstep in 2 to 5 business days, all across Canada!