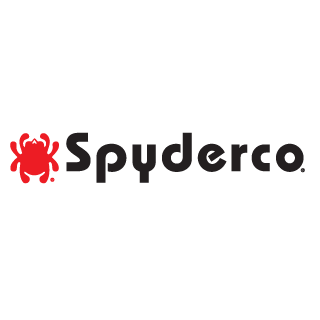 Spyderco is your source for high-performance cutting tools. Their innovation started in 1976 with tools like the Portable Hand and Tri-Angle Sharpmaker. After two successful years travelling with knife shows in their business-in-a-truck, they settled in Golden, Colorado in 1978.
Spyderco's Influential History
In 1981 they put their creative innovation to work creating their first folding knife: the C01 Worker. This knife was innovative from the start. It was the first knife to feature their signature Round Hole™ in the blade to allow for fast, one-handed opening. This quickly became the company's trademark and their signature aesthetic.
Spyderco Knives Today
Today there are many dozens of products to choose from in many different styles.
Folding Knives
A perennial winner in their line is their Tenacious Lightweight Bleu FRN Knife, which is the flagship of their budget-friendly EDC cutting tools.
The FRN indicates that the handle is made of a tough fiberglass-reinforced nylon, available in an array of injection-molded colours.
The Spyderco Paramilitary 3 Compression Lock Knife is a great companion to keep at your side. The open-backed construction keeps it lightweight, while the stainless steel liner is constructed to reduce handle thickness while maintaining excellent structural support for the patented Compression Lock™.
Fixed-Blade Knives
Folding knives are not the only tool in Spyderco's arsenal. You can also find gems such as their throwing knives that come in small, medium, and large sizes.
And to keep you on your toes, their Nightstick Fixed Blade Knife is a sleek and modern take on the classic boot knife.
More That Just Knives
Before Spyderco was making knives, they were making everyone else's knives sharp. They haven't forgotten their roots, and Spyderco continues to be the place to go to get your knife and sharpen it, too.
Whether it's the Tri-Angle sharpener, or one of the benchtop tools like the Ultra Fine Bench Stone, Spyderco has what you need to maintain that Benchmade razor edge.
Or sharpen on the go! You need to rely on your knife to get the job done, and you can't always make it back to your workbench. Spyderco has that solution for you, too! Like in their Double Stuff Ceramic Pocket sharpener stones.
Get your Spyderco tools fast from Anywhere in Canada!
You don't have to wait to get your unforgettable Spyderco knife – visit one of Cutting Edge Cutlery's locations in Calgary, Saskatoon, Regina, and Winnipeg.
Or use Cutting Edge's simple ordering system that delivers to your doorstep in 2 to 5 business days, all across Canada!