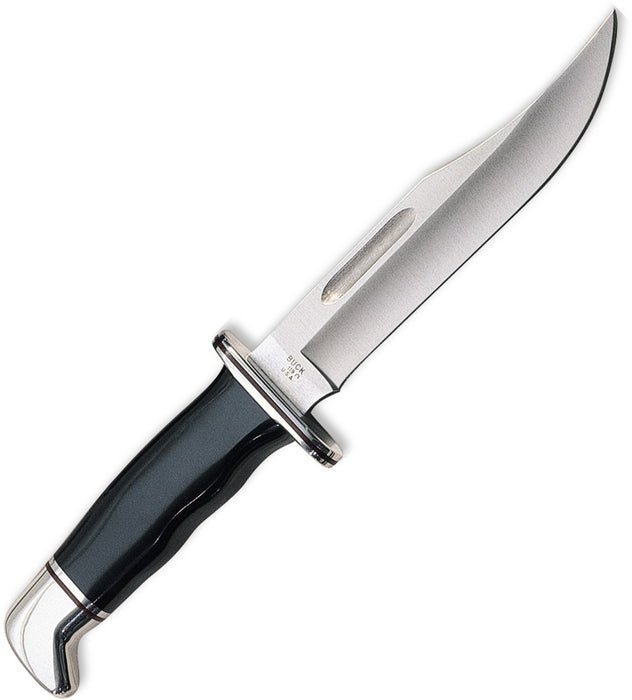 Buck Special
Celebrating 75 years of the famous 119 Special! Hoyt Buck's first knife, made from a worn out file blade in 1902 was a fixed blade. The U.S. Government requested blade donations for the military after the attack on Pearl Harbor. It is then, in the basement of a church in 1942, that Hoyt Buck began making knives by hand. It was design that was dialed in after 40 years of making knives to customer specifications. The anniversary edition 119 Special features a custom medallion in the handle and a 75th anniversary blade stamp. The leather sheath also features an embossed anniversary logo. Engraving is offered on right side (blade facing right). Made in the USA.  
420HC STEEL
This is Buck's standard blade material because it approaches the wear resistance of high carbon alloys while delivering the corrosion resistance of chromium stainless steels. Add our exclusive heat-treat process and you have a very user-friendly combination of superior corrosion resistance with excellent strength for wear resistance and durability. You also have a blade that is easy to resharpen. For best performance we harden to a Rockwell hardness of Rc 58.
CLIP
The crescent tip makes the blade thinner with a sharper point. This shape provides good control for detail work and cutting in tight places. It is also well suited for intentional punctures like new holes in your belt, etc. While the point of the blade is effective for detail work, it's not as strong as the thicker points on drop points and skinners.