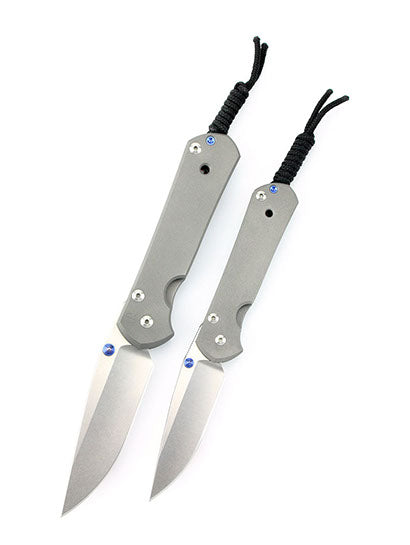 Chris Reeve Sebenza 21 Folding Knife (Small)
The Sebenza 21 features sandblasted handles, a tumbled finish drop point blade, 303 stainless steel hardware,  and exterior accents in the Reeve signature anodized blue titanium. Built with handcrafted care at a production level,  the Sebenza 21 has earned a worldwide reputation for rock solid performance and a "bank vault" feel.  
Design
Whether plain with a tumbled or "stonewashed" S35VN blade and sand blasted handles, or embellished with a polished or damascus blade, wood inlay or lavish graphics, each Sebenza is individually fitted to the closest tolerances. All Sebenzas are available in Large or Small, and dedicated Right or Left handed for the fullest user experience.
Timeline
Chris developed the first Sebenza in 1987 and the profile has experienced minor changes over the years. After the entirely handmade version, came the Original profile in 1990, the Regular in 1996, the Classic in 2000, and eventually, in 2008, the 21st year of the Sebenza, we introduced the Sebenza 21.
Graphics
Chris developed his unique style of embellishing Sebenza handles early in the 1990's and now these graphics have become a trademark of Chris Reeve Knives. The graphics are machined into the handles and are enhanced with either color or texture contrast. Colors are achieved by anodizing, a process that involves passing an electrical current through the titanium handle, causing a layer of oxide to form on the surface. The desired color is achieved by selecting a specific voltage and the color is simply reflected light, the spectrum splintered. When the coloring is complete, the handle is hand rubbed to a brilliant polished finish. Silver Contrast designs use a polished finish paired against the sandblasted finish.
From Chris Reeve...
"...My first impressions of the liner lock style locking mechanism were very favorable but when I examined it more closely, I decided that I didn't much like the flimsiness of the thin liner.  After some thought, I redesigned the concept and have created the Sebenza Integral Lock© which I believe to be the most rugged folding knife on the market. I have put a great deal of thought into the different features of the Sebenza and know that this is a knife which will work hard, keep a good edge and will be easy to maintain. Zulu is the native language of the area in South Africa where I was born and raised. The Zulu people traditionally lived their lives in a simplistic, no-nonsense way and I have used that same approach in the way I design and make my knives. Sebenza means work in Zulu – these knives are intended to do just that. Sebenzas are a work in progress. I strive continually to advance minor features of the Sebenza so as to improve our methods of making the knives and to enhance their performance. Our knives are fitted to the tightest tolerances in the industry and the Sebenza has set a very high standard for the industry. "
  SPECS
Small Sebenza 21
Blade Material: Crucible S35VN
Blade Hardness: 59-60 RC
Blade Length: 2.94" (75mm)
Blade Thickness: 0.1195" (3.0353mm)
Handle Material: 6Al4V Titanium
Handle Thickness: 0.1255" (3.1877mm)
Handle Length: 3.978" (101.041mm)
Overall Length: 6.875" (175mm)
Weight: 3.0oz (85g)
Pocket Clip: 6Al4V Titanium
Thumb Lug: 6Al4V Titanium