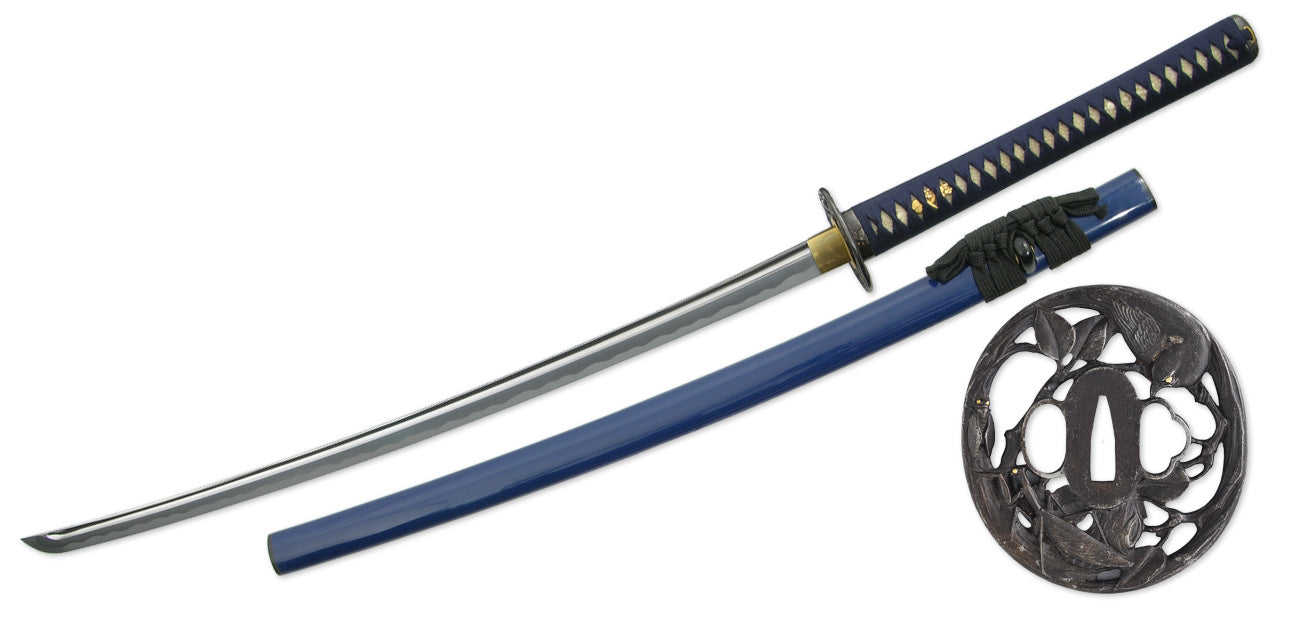 Golden Oriole Katana by Paul Chen / Hanwei SH1018
Classic Japanese Samurai Sword from Paul Chen
The elegantly simple lines of the Paul Chen / Hanwei Golden Oriole Katana have long been favored by admirers of the Japanese sword. The story told by the stunning tsuba is of a mantis stealthily stalking the cricket, unaware that he is himself being stalked by the Golden Oriole. The deeply lacquered blue of the saya is repeated in the Japanese cotton tsuka-ito, and the Oriole appears again on the kashira. Unmistakably Hanwei quality, the 14" tsuka of the katana gives a superb balance to the sword, allowing it to move very quickly and very freely. Supplied with a protective cloth bag and traditional maintenance kit.  
Key Features:
Hand forged high-carbon steel
Built for cutting
Traditional constructio
Overall: 42 1/4" Blade Length: 27 1/4" Handle Length: 14" Weight: 2lb 3oz Point of Balance: 4" Width at Guard: 1.16" Width at Tip: .85" Thickness at Guard: .32" Thickness at Tip: .26" Sori: 3/4" Blade Steel: T10
Specs will vary slightly from piece to piece.