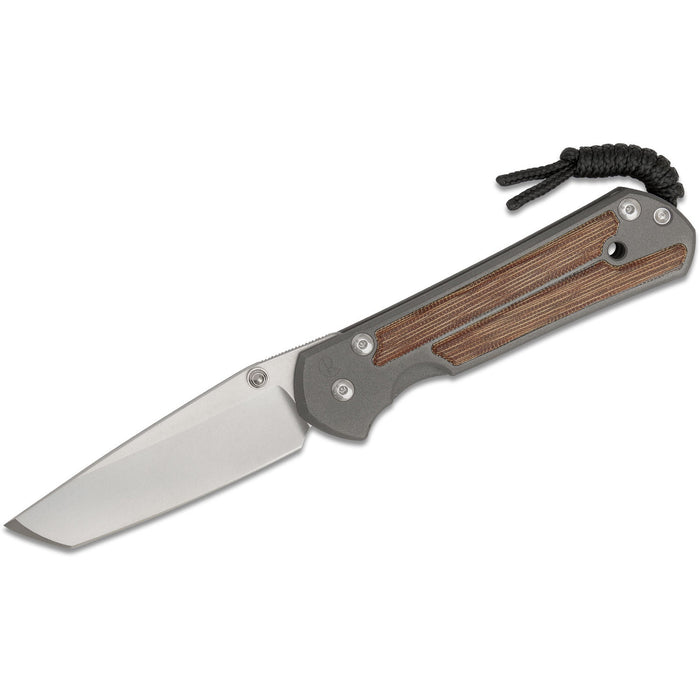 Chris Reeve Large Sebenza 21 Knife w/ Natural Micarta Inlays Tanto (3.6") CHRL21-1266
The Large Sebenza 21 Tanto with natural Micarta inlays bridges the gap between hi-tech titanium and the organic feel of Micarta. This knife's natural canvas micarta inlays each fit exactly into one of three pockets machined into the handle; two on the front and one on the back. The sections are retained with VHB™ (very high bonding) double sided tape. The inlays give a contoured feel to the handle and are as attractive as they are functional.    
Blade Length: 3.625"
Closed Length: 4.710"
Overall Length: 8.335"
Blade Material: CPM S35VN Stainless Steel
Blade Thickness: 0.125"
Blade Hardness: 59-60HRC
Blade Style: Tanto
Blade Grind: Hollow
Blade Finish: Stonewash
Handle Material: 6Al4V Titanium with Black Canvas Micarta Inlays
Handle Thickness (Per Side): 0.125"
Locking Mechanism: Frame Lock
Pivot Assembly: Washers
Pocket Clip: Titanium (Tip-Up, Right Carry)
Weight: 4.7 oz.