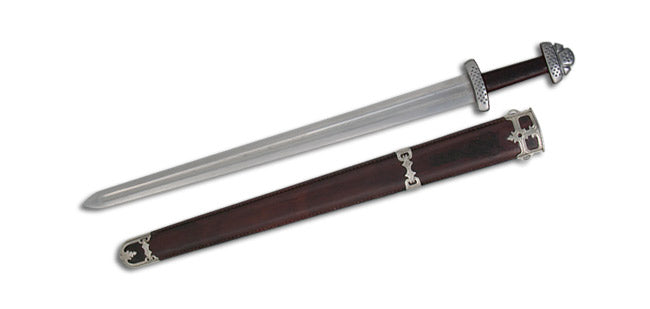 Trondheim Viking Sword by Paul Chen / Hanwei SH2296
Hanwei continues to push the envelope with its forging capability in the Trondheim sword, Paul Chen produced this as a one piece forging in pattern-welded high-carbon steel. Patterned after swords that have been discovered in the area around Trodheim, Norway, the sword exhibits early ninth-century styling, a time when the Norwegian Vikings were pillaging Britain and Ireland. The beauty of the blade is matched by the grip and scabbard, both of which are wrapped in top-grain leather, engraved in a classic Viking motif.  
Key Features:
One-Piece Folded Blade-Guard-Pommel
Leather over wood core scabbard
Carved detail in handle and scabbard
Overall: 30 ¼" Blade Length: 24" Weight: 2lb 7oz
Specs will vary slightly from piece to piece.