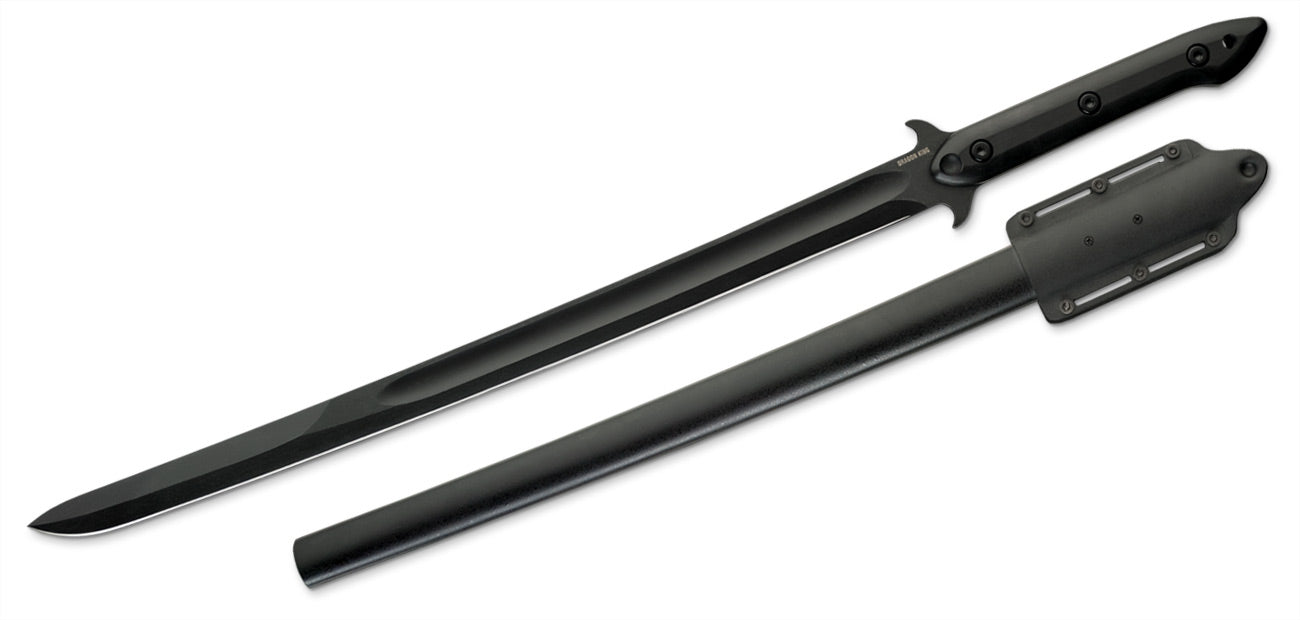 APOC Survival Cutlass, Gus Trim SD35500
A more obvious Gus Trim design, the A.P.O.C. Cutlass possesses numerous construction nuances of said creator. Revealing his subtle style in the contours of the 21 1/2" Black Oxide coated blade, the tapered back edge of the tip and a reinforcing fuller running from the sweet spot to the choil scream an Atrim blade.  No doubt the A.P.O.C. Cutlass will soon arise a favorite for single or two-handed close quarters combat. With an overall length of 29 3/4" weighing merely 1 lbs 15 oz this piece becomes most useful when scavenging for food and supplies within dilapidated buildings or as a side piece on your bugout vehicle or survival pack traversing the wasteland. With the 8 1/8" handle the younger survivors in your group can contribute to the protection of the family and its resources. Again, the G10 handle slabs, rivets and blade profile are smoothly flush all around preventing blisters or lesions helping avoid infection while providing a secure grip. The double hooked guard prevents your hands from sliding onto the blade edge.
Product Details
Key Features:
21 1/2" black oxide coated 9260 spring steel blade
Full tang, triple riveted G10 handle
Light fiberglass scabbard with Molle compatible platform
Survival Cutlass

Made In China
Specifications:
Overall: 29 3/4"
Blade Length: 21 1/2"
Handle Length: 8 1/8"
Weight: 1 lbs 15 oz
Point of Balance: 3"
Thickness at Guard: 5.8mm
Blade Steel: 9260
Hrc Edge: 56
Handle Material: G10

Specs will vary slightly
from piece to piece.