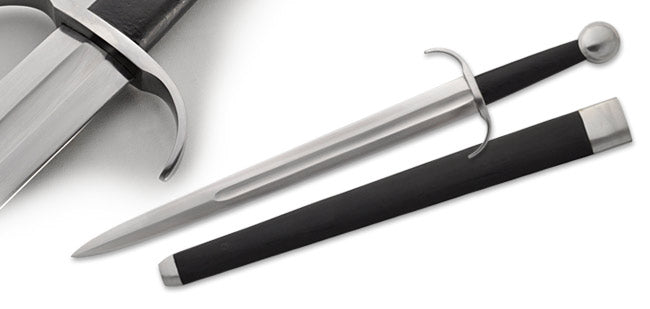 Legacy Arms Knight's Riding Sword (21") IP-705
Generation 2/Legacy Arms Knight's Riding Sword
According to Ewart Oakeshott. "Records of the Medieval Sword", page 151;
An identical one is shown on two early 14th century effigies in Germany. (i), of Arnold I Langraph of Cleve, + 1320 in Stiftskirche at Cleve, and (ii), of one of the hero-figures, c. 1308, in the Rathaus at Cologne.  Not only are hilts of the swords on these figures exactly the same as this sword, but the size is too,, more proof (if any more is needed, which it shouldn't be) that these short swords were not made for boys, or archers etc., but for knights and in this case, great nobles.
The blade of this sword is hand forged from 5160 carbon steel and hand tempered.  The blade is then securely peened at pommel.  The handle is wood wrapped in black leather. Sword also includes a wood scabbard wrapped in black leather with steel accents at throat and tip.
Overall: 29"
Blade Length: 21"
Handle Length: 5 1/4"
Weight: 2lb 9oz
Point of Balance: 1 7/8" below hilt
Width at Guard: 2"
Width at Tip: 1 1/2" @ fuller end
Blade Steel: 5160

Specs will vary slightly
from piece to piece.