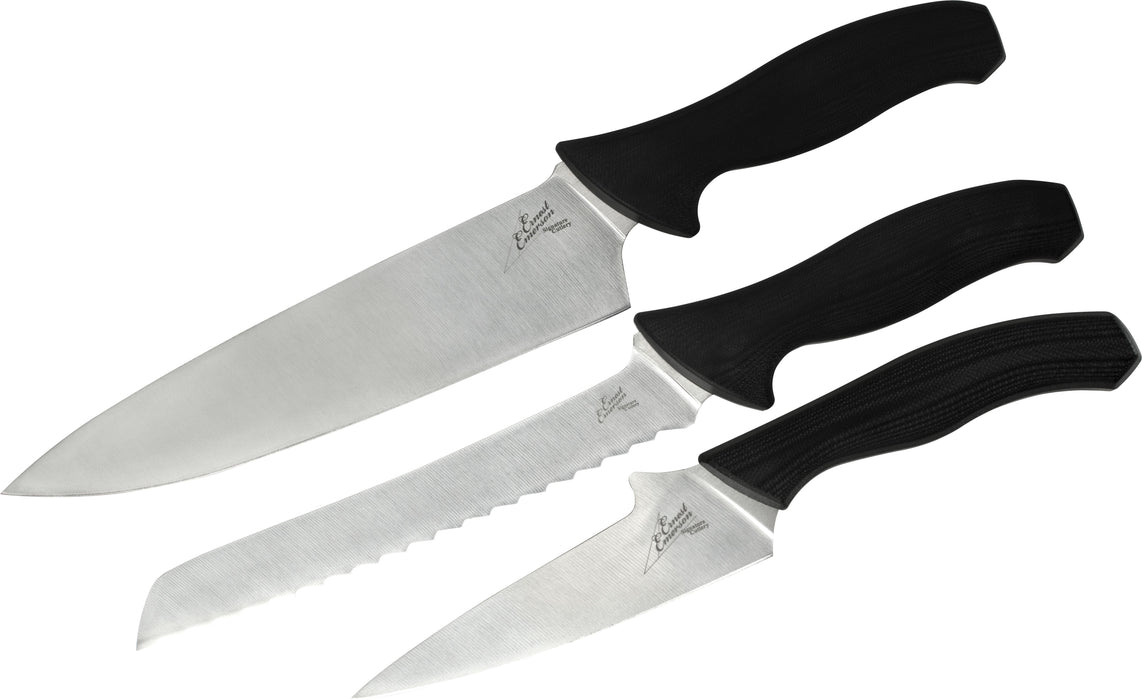 Kershaw Emerson 3 Pc Cook's Knife Set 6100
Now Ernest Emerson brings his famous "Emerson ergonomics" to the kitchen with the Kershaw–Emerson Cook's Set. In fact, he had long wanted to bring his knife design principles to the kitchen. Partnering with Kershaw Knives, the Kershaw-Emerson Cook Set does just that.
The set includes three must-have kitchen knives: a 7.75" chef's knife, a 4.25" paring knife, and a 7.25" bread knife. Describing his philosophy behind the kitchen knife designs, Emerson explains, "It must cut and it must be comfortable. Any function or design feature that does not add to those attributes simply makes the knife less functional."
In style, the Kershaw–Emerson Kitchen Set clearly shows its heritage—most especially in the handle design. Those familiar with Emerson design will easily recognize the characteristic handle shapes, time-tested for secure grip and function.
The blades are quality DIN 1.4116 stainless steel, sharpened to a razor-sharp 16° cutting angle on each side. Full-tang construction offers durability and balance, while textured glass-filled nylon handles provide lightweight maneuverability and easy cleaning.
Blade Length: 7.25" (18.4 cm) Bread Knife, 7.75" (19.8 cm) Chef's Knife, 4.25" (11 cm) Paring Knife
Blade Material: DIN 1.4116 Stainless Steel
Blade Finish: Satin
Handle Material: Glass-Filled Nylon