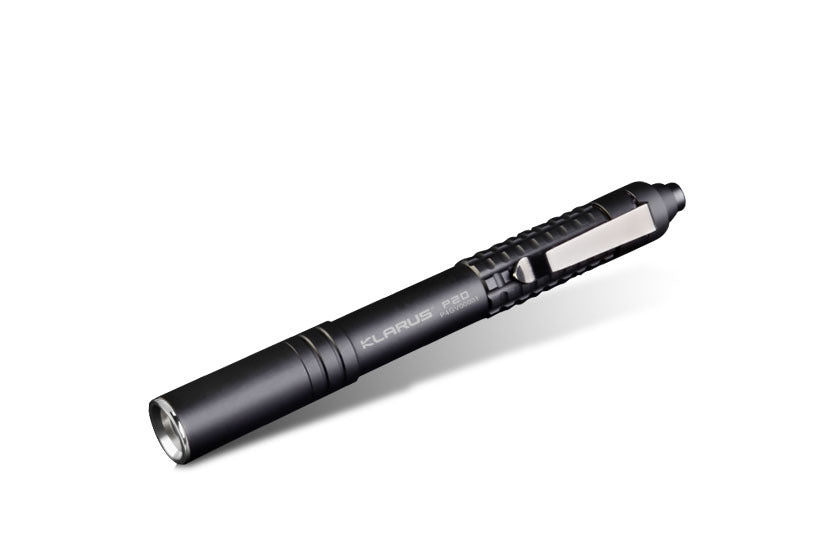 Klarus 230 Lumen Penlight P20
Product Description
Looking for a compact and lightweight flashlight for work? The Klarus P20 might be just what you need! This penlight features a Nichia High CRI LED that delivers a soft diffused beam and simulates natural lighting allowing you to see better. It delivers 230 lumens, the perfect amount for a variety of professional fields including engineers, doctors, nurses, and more. The Klarus P20 features three brightness outputs: High - 230 lumens, Medium - 66 lumens, and Low - 4 lumens. The P20 produces such a soft light that the low mode can be used to exam eyes safely. Whether you're an optometrist, a school nurse, or a parent, that low mode can really come in handy. You can also use the built-in memory function to ensure the P20 turns on in the low mode to prevent blinding your patient. Or you can have it remember and turn on in any mode you choose.
The P20 features a single tail switch allowing you to easily and simply operate the flashlight. With this single switch you can turn the flashlight ON and OFF and easily switch between modes for different situations. You can equip the P20 with a pair of AAA batteries which are quite inexpensive and very easy to come by. With two fully charged AAA batteries, the P20 can run for up to 193 hours on the low brightness mode. Equipped with a stainless steel pocket clip, the P20 can easily be carried in a pocket or on a bag. It's slim and small enough that you'll barely notice it.
Klarus has always delivered on quality and the P20 certainly won't let you down. Made with CNC machined 6061-T6 aluminum with a Mil-Spec hard anodizing finish, the P20 is durable and ready for anything! It features an anti-slip design allowing you to grip the flashlight better and more easily. The stainless steel bezel around the head protects the LED. The P20 is so durable that it's shock-resistant up to 1.5 meters so it can handle accidental drops to the ground. It's also waterproof up to IPX8 standards which means you can submerge the light in 2 meters of water for half an hour and the flashlight will work just fine. So you won't need to worry about taking your P20 out into the rain or accidentally dropping it into a puddle. The P20 is an excellent flashlight whether you're looking for a light for your job or you need a compact and simple EDC light. Batteries sold separately.
Features:
Has a Nichia High CRI 219C LED that delivers up to 230 lumens, 5000K, 50,000 hours lifetime
Has a single tail switch design
Features three brightness levels, and a built-in memory function. Switch the light off and on within two seconds to change level.

High (230 lumens) - 34 minute runtime
Medium (66 lumens) - 15 hour runtime
Low (4 lumens) - 193 hour runtime

 
Compatible with 2 x AAA alkaline or NI-MH batteries batteries (can't use 10440 Li-ion batteries)Has a stainless steel pocket clip
 
Made with CNC machined 6061-T6 aluminum with a Mil-Spec hard anodizing finish
Shock resistant up to 1.5 meters
Waterproof up to IPX8 standards
Size: 133mm(Length)*14.2mm(bezel)*12.9mm(body diameter)
Net weight: 26g(without batteries)
Working voltage: 1.8-3.3V
Lens: PMMA optical material, with light transmittance up to 92% light transmission
Color: Black
Klarus 5 year warranty