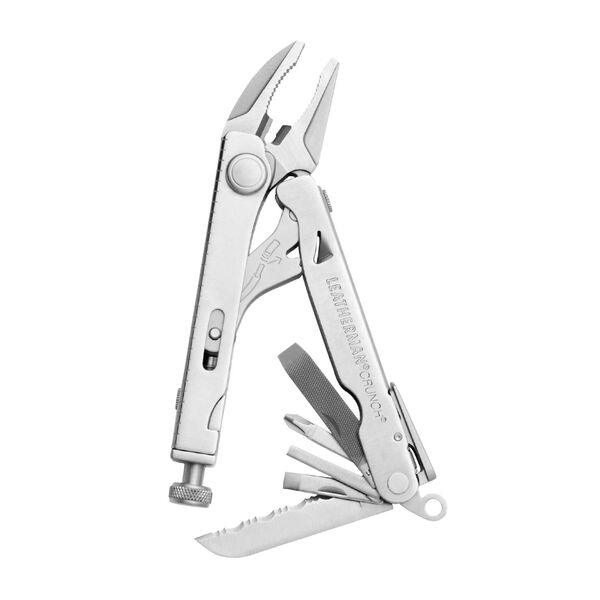 Leatherman Crunch Multi-Tool w/ Leather Sheath (15-in-1) 68010181N
Locking pliers that fold away make the Leatherman Crunch unlike any multi-tool available today. The Crunch clamps up to a 1-inch diameter pipe, and if you remove the adjusting screw, you'll find a hex-bit adapter built right in. With locking blades that release with the push of a button, the Crunch will take a bite out of any job.
Tools Included
01

Regular Pliers

02

Locking Pliers

03

Hard-wire Cutters

04

Wire Cutters

05

Wire Stripper

06

420HC Serrated Knife

07

Ruler

08

Pin Vise

09

Bottle Opener

10

Wood/Metal File

11

1/4" Hex Bit Drive

12

Phillips Screwdriver

13

Large Screwdriver

14

Medium Screwdriver

15

Small Screwdriver
Closed Length
: 4 in | 10 cm
Open Length
: 5.4 in | 13.7 cm
Blade Length
: 2.2 in | 5.5 cm
Overall Thickness
: .52 in | 1.32 cm
materials:
420HC Stainless Steel
Features
01

Crunch Locking Features

The Crunch feature both all locking tools and plier head. The all locking design enables the user to operate individual tools safely and effectively. By locking them into place when fully open, the user can put pressure on the implement while safely completing the job, before manually unlocking the tool to stow it away.

02

Lanyard Ring

This secure ring is for attaching the tool safely and securely to a lanyard. Often people who work near water or on scaffolding attach their tool to a lanyard on their person to avoid losing the tool if it's dropped.