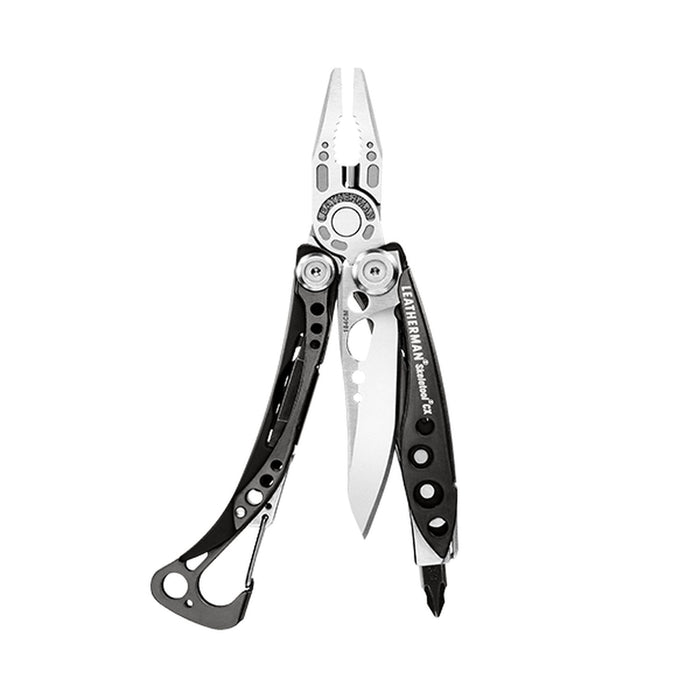 Leatherman Skeletool CX Multi-Tool (7-in-1) 830923
The sleek Leatherman Skeletool CX gets you back to basics... very cool basics. The Skeletool CX has only the most necessary of multi-tool features, because sometimes that's all you need. With a 154CM stainless steel blade, pliers, bit driver, pocket clip and carabiner/bottle opener, you're set. Lightweight, low volume, perfect size. The Skeletool CX: who says more is better?
Weight

: 5 oz. | 142 g.

Closed Length

: 4 in. | 10 cm.

Open Length

: 6.0 in. | 15.24 cm.

Blade Length

: 2.6 in. | 6.60 cm.

Width

: 1.24 in. | 3.15 cm.

Overall Thickness

: .52 in. | 1.32 cm.

materials:

154CM Stainless Steel, DLC Coating

included bits:

Phillips #1 & #2, Screwdriver 1/4" & 3/16"
Tools Included
01

Needlenose Pliers

02

Regular Pliers

03

Hard-wire Cutters

04

Wire Cutters

05

154CM Knife

06

Carabiner/Bottle Opener

07

Large Bit Driver
Features
01

Handle Bit Storage

Conveniently store Leatherman tool bits in the handle of your multi-tool for easy access in the middle of a job, or for safe keeping when not in use.

02

Locking Blade

A knife blade that locks into place when fully deployed. A user must manually unlock the blade to fold it away, which allows for a much safer user experience.

03

Replaceable Pocket Clip

A removable clip which allows the user to wear their multi-tool attached to a pocket or belt loop without the use of a sheath. By removing the clip, the user is able to easily carry their tool in a sheath if preferred.

04

Outside-accessible Features

This multi-tool features tools that are accessible while the tool is in its folded or closed position, mimicking the functionality of a pocket knife.

05

One-hand Operable Features

Features on this tool can be opened and operated with one hand. This enables the user to keep the other hand free for situations that require multi-tasking or a free hand.