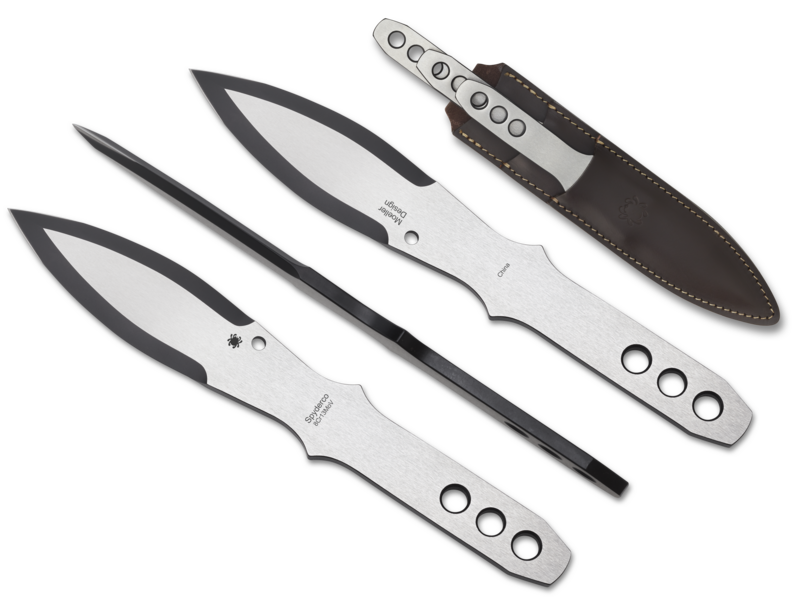 Spyderco 10" Medium SpyderThrowers Throwing Knives (Set of 3) TK01MD
For decades, Canadian custom knifemaker Harald Moeller's throwing knives have been regarded as some of the finest in the world. The product of Moeller's uncompromising quest to develop the perfect throwing knife, these highly refined designs are much easier to throw and stick consistently than their competition. Through an exclusive arrangement with Moeller, Spyderco is now proud to manufacture his world-class throwing knife designs and make them available under the Spyderco brand.
SpyderThrowers are painstakingly machined from thick 8Cr13MoV stainless steel, tempered to a tough spring hardness, and finished with a contrasting two-toned black oxide and satin finish. Their substantial heft and precise center balance allow them to be thrown equally well by the blade or the handle for half or full-spin throws. Although available in three different sizes, these remarkable knives all share the same common throwing characteristics and throwing distances.
SpyderThrowers are sold in sets of three knives of the same size. Every set comes complete with a high-quality three-tiered leather belt sheath and a copy of Harald Moeller's instructional book Knife Throwing: The Knives and Throwing Technique of Harald Moeller.
Overall Length
10.13" (257mm)
Blade Length
6.13" (156mm)
Steel
8Cr13MoV
Closed Length
N/A
Edge Length
N/A
Weight
8.9oz (252g)
Blade Thickness
0.224" (5.7mm)
Handle
N/A
Clip Position
N/A
Tip Carry Position
N/A
Lock Type
N/A
Grind
Dagger
Sheath
Leather w/Belt Loop
Origin
China