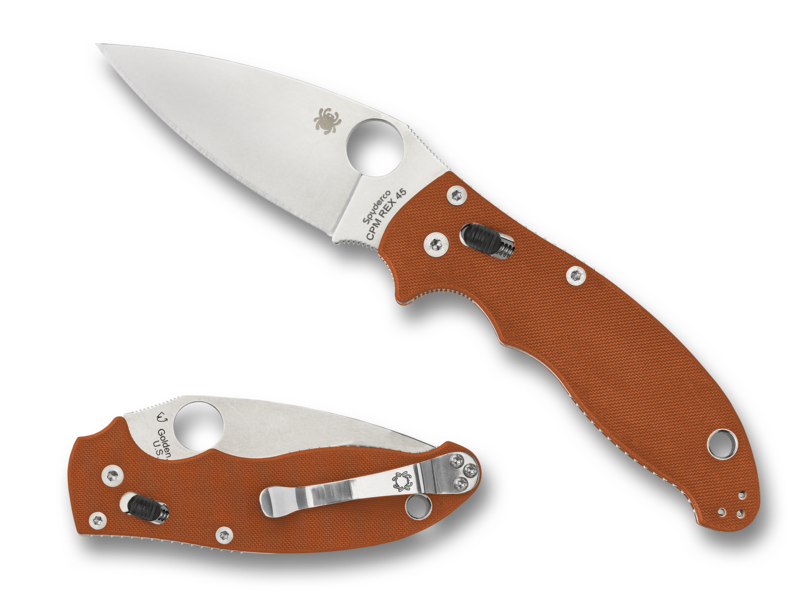 Spyderco Manix 2 SPRINT RUN Ball Bearing Lock Knife Orange G-10 (3.37" Satin REX 45) C101GPBORE2
Crucible® CPM® REX® 45 is a super-high-speed particle metallurgy tool steel enriched with large volumes of cobalt, tungsten, molybdenum, and vanadium. Its high cobalt content increases the steel's attainable hardness and enhances the positive properties of the steel's other alloys. The addition of vanadium promotes the formation of vanadium carbides, which provide high wear resistance, fine grain size and increased toughness.
A true steel connoisseur's blade material, REX 45 is an ideal steel for this prestigious Manix 2 Sprint Run produced in our USA factory. To further distinguish this unique steel, all REX-45-bladed models feature a distinctive burnt-orange handle color.
Overall Length
8.03" (204mm)
Blade Length
3.37" (86mm)
Steel
CPM® REX® 45
Closed Length
4.66" (118mm)
Edge Length
2.95" (75mm)
Weight
4.3oz (122g)
Blade Thickness
0.125" (3.2mm)
Handle
G-10
Clip Position
Ambi
Tip Carry Position
Tip-Up
Lock Type
Ball Bearing
Grind
Full-Flat
Sheath
N/A
Origin
United States