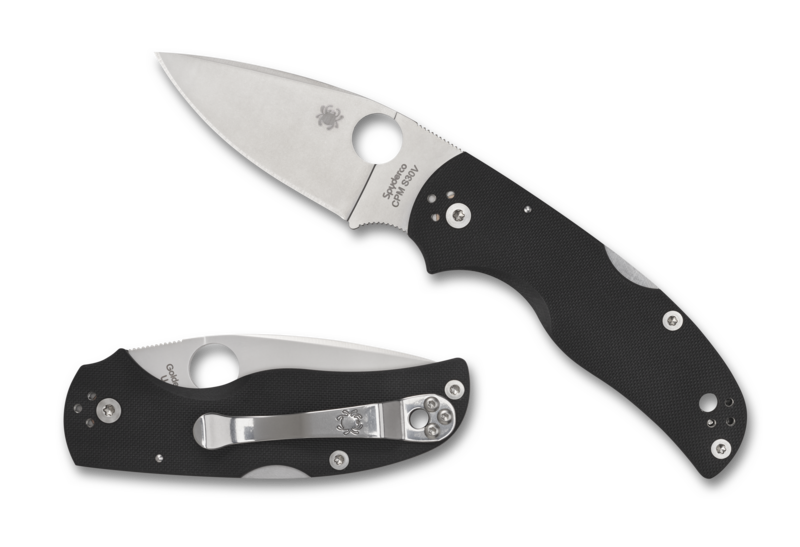 Spyderco Native 5 Lockback Knife Black G-10 (3" Satin) C41GP5
Since its original release in 1997, the Native® has been a mainstay of the Spyderco product line and a shining example of our American-made quality and innovation. Now in its fifth generation of design, the current Native 5 proudly reflects our tireless commitment to Constant Quality Improvement (C.Q.I.) by boasting a number of significant design and engineering advances.
This knife's ergonomic handle features a solid stainless steel back spacer and textured G-10 scales. This linerless construction style reduces weight, while ensuring impressive structural strength and solid support for the knife's highly refined back lock mechanism. The product of extensive research, development, and testing, the Native 5's back lock redefines the state of the art in the engineering and execution of this elegantly simple mechanism. It offers increased strength, an exceptionally smooth action, an improved self-close function, and even greater resistance to wear and tear than previous versions.
The blade of this knife is crafted from CPM® S30V® stainless steel and features a full-flat grind, a distal taper, and an understated swedge that combine to offer both a distinctive appearance and exceptional edge geometry. A forefinger choil also supports the option of a "choked up" forward grip for increased leverage and control during use. To ensure swift, positive opening with either hand, the blade includes a fully accessible Trademark Round Hole™. This feature complements the back lock and stout four-position hourglass clip to make all aspects of the Native 5's carry, deployment, and operation completely ambidextrous.
Overall Length
6.95" (177mm)
Blade Length
2.95" (75mm)
Steel
CPM S30V
Closed Length
4.00" (102mm)
Edge Length
2.42" (61mm)
Weight
3.0oz (85g)
Blade Thickness
0.125 " (3.2mm)
Handle
G-10
Clip Position
Ambi
Tip Carry Position
Tip-Up/Down
Lock Type
Back Lock
Grind
Full-Flat
Sheath
N/A
Origin
United States