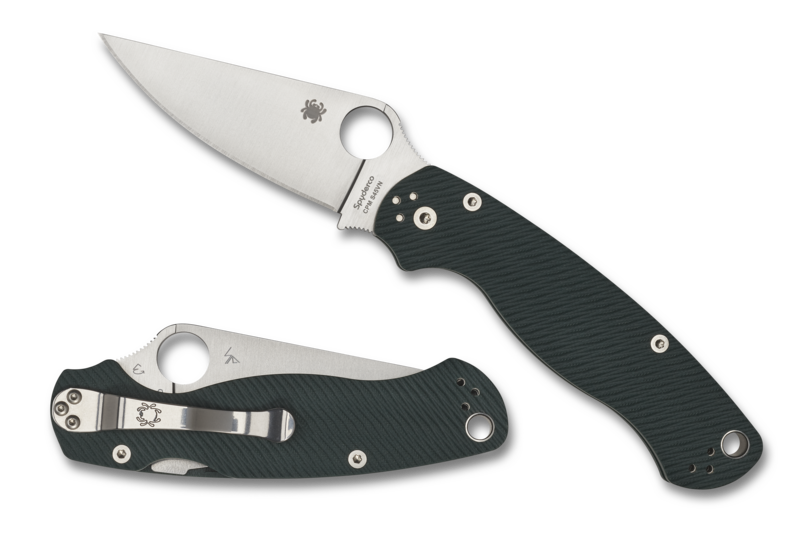 Spyderco Paramilitary 2 Knife SPRINT RUN Forest Green G10 (3.47" Satin S45VN) C81GPFGR2
CPM® S45VN is a martensitic stainless steel specifically created to transcend its predecessors. Its carefully tuned chemistry promotes the formation of more chromium carbides, while leaving larger amounts of free chromium available for corrosion resistance. Together with a finely tuned formula of niobium, nitrogen, vanadium and carbon, its composition offers a superior balance of edge retention, wear resistance, corrosion resistance and toughness. All of these qualities are further enhanced by the Crucible Particle Metallurgy process, which ensures an exceptionally homogenous grain structure.
To showcase this high-performance steel, we're producing limited-edition Sprint Runs of a select number of our US-made models. This Para Military 2 also features forest-green G-10 scales and an exclusive CNC-machined Diamond Arc™ pattern that gives them a visually stunning non-slip texture.
Overall Length
8.29" (211mm)
Blade Length
3.47" (88mm)
Steel
CPM S45VN
Closed Length
4.82" (122mm)
Edge Length
3.05" (77mm)
Weight
3.8oz (108g)
Blade Thickness
0.145" (3.7mm)
Handle
G-10
Clip Position
Ambi
Tip Carry Position
4-position
Lock Type
Compression
Grind
Full-Flat
Sheath
N/A
Origin
United States