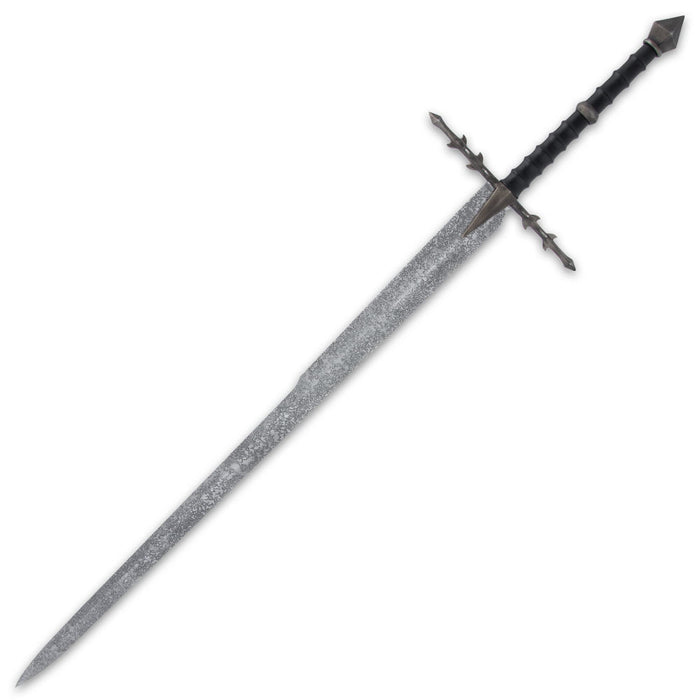 United Cutlery Lord Of The Rings Ringwraith Sword UC1278
Ringwraiths, also called Dark Riders or the Nazgul, are the shadow servants of Sauron. There are nine of them to represent the nine mortal kings that Sauron corrupted with his Ring of Power. They can sense when the Ring of Power is near and can see the Ringbearer even more clearly when he puts it on. The Ringwraith's sword was built by armorers of the dark land of Mordor, under the command of their evil master Sauron. This authentically detailed replica is a reproduction of the actual filming prop built by Weta Workshop and used in "The Lord Of The Rings" films presented by New Line Cinema. This massive sword features an authentic battle-worn solid metal crossguard and pommel, genuine leather-wrapped grips and a rat-tail tang construction. The 39 3/4" acid-etched, tempered 420 J2 stainless steel blade is false-edged and has a thickness of 1/4". Included is a 10"x 13 7/8"x 3/4" wooden display plaque silk-screened with the mark of the Eye of Sauron, master of the Ringwraiths.

Also included is a parchment certificate of authenticity verifying its officially licensed collectible status.